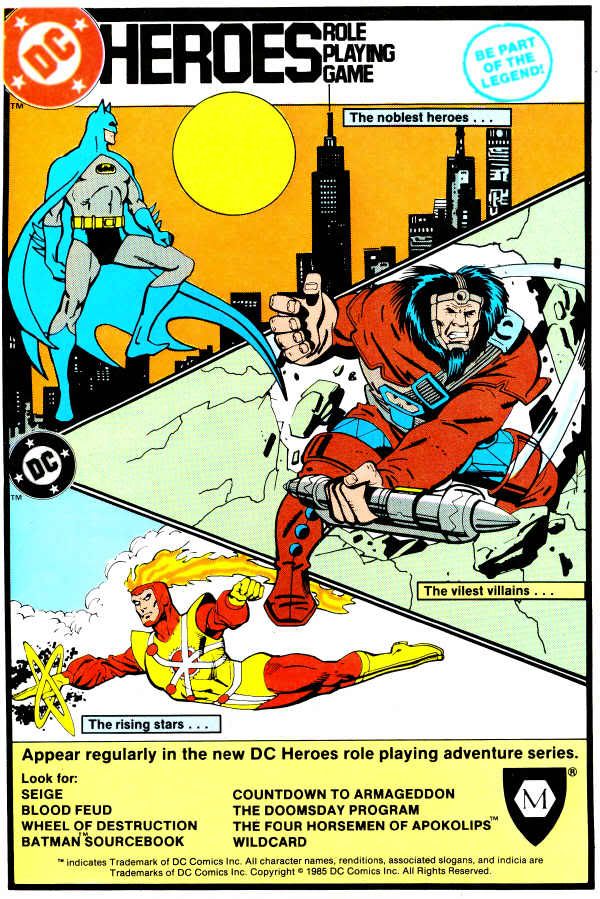 Still overworked and underpaid, and still passing my lack of time and energy unto... nurgh... I'm avoiding encrouching on Rob's territory at
Coming... Super-Attractions!
, which seems to be exclusively pre-90's DC house ads. Marvel seems to be fair game, and so I think should Mayfair Games advertising. I always dug this shot of the iconic Batman, the blue flamer Firestorm and... Kalibak? The fuck?* Super Powers in the only explaination I have for that one, but the ad caught my attention without the tie-in. I'm proud that I got through most of my life without getting suckered into RPGs, at least until a customer at my comic shop used Overpower as a gateway to the most tedious form of fandom. One of my formerly young charges recently applauded my gamemaster skills from the 3-6 months we had a group going, after I made disparaging comments about myself and that whole dirty business. Today, he's pushing thirty and just proposed to his future wife. Time, time, time-- see what's become of me.
*If I do get into Rob territory, rest assured I will differentiate by using terms like "snatch" and "felch," because part of the point of ...nurgh... is getting to work blue. You don't know how many times I've wanted to drop the f-bomb at the resolutely PG-rated Idol-Head of Diabolu. This blog smells like something that really needs to be bleached and laundered.